Daria Dmitrieva: I live and breathe for rhythmic gymnastics
Show of Rhythmic Gymnastics Stars for gymnasts of the age of 5-15 took place in Moscow on December 15, 2012. Sydney Olympic Champion Yulia Barsukova, leaders of Russia RG Team Karolina Sevastianova and Uliana Donskova, vice-champion of Games 2012 Daria Dmitrieva came to share the experience and communicate to the young gymnasts. There was great amount of the workshop participants and show viewers. Young gymnasts were excited by flexibility of Yulia Barsukova and exercises of Russia Olympic RG Team; they ran for photo and autograph sessions with their idols. Journalists also stroke the right moment and communicated to Silver medalist of XXX Olympic Games, Daria Dmitrieva, who had already tuned to the beat of RG competitions and got 5 golden medals at the Final Rhythmic Gymnastics Grand Prix in Brno, Czech Republic.
- Daria, could you tell that your life has changed after the Olympic Games or everything's as before?
- Yes, of course things changed. I receive more attention and respect. I can say that status changed. All of us "grew up" after the Olympiad. Sport life runs its course – work, training, competitions.
-They say that Russian gymnasts settled in canteen after the Olympic Games finished
- The monthbefore the Olympiad was the most difficult for me, as I had to reduce many kilos at once, and it was hard. I had to limit myself to little amount of food, and I waited when the Olympics finished and I will allow myself everything I want. Several days before the competition I lost my appetite. I had only breakfasts in order to maintain energy. When the Games finished I thought I would eat a horse, but my great desire disappeared and I couldn't eat so much. So I manages to be slim 2 weeks after the Olympiad, but then my organism.
- But where did you get energy for training and performances?
- Everything is in our heads. We always program ourselves to have no energy and so on. In fact human possibilities are boundless. You just need to build your mind in a correct way. Our head coach, my personal coach and doctors did their best to help and support us, so that we feel the best way. We had a goal and we went to it. Moreover, we spent only this one month before the Olympiad, and it went too quickly. Now, I can eat whatever I want.
-You didn't rest much after the Olympiad some gymnasts even haven't started to train, but you've already won several tournaments. Did you want to come back as soon as possible or it's just better to tune to the beat of work?
- Sure, the less I rest the easier I can keep fit. But a rested for a month, and that's enough. So I decided not to waist my time and start training and competing. I plan to take part in all the competitions and gala shows till the end of the year. I live and breathe for gymnastics, that's why I wanted to come back to the rhythm I got used to. If I sat at home I would never make myself get up and got to the gym.
- Some Russian gymnasts decided to retire after the Olympic Games. Do you plan to perform in Rio de Janeiro?
- I haven't thought about it yet. It was so hard after the Olympiad and I thought about retirement, but then I realized that gymnastics is my life which I love so much. That concerns everything, not only sport. I try not to predict the future.
-Well, does it mean that you don't dream about Olympic Gold in addition to Silver?
- No, I don't look so far. I dream of being healthy and alive every day.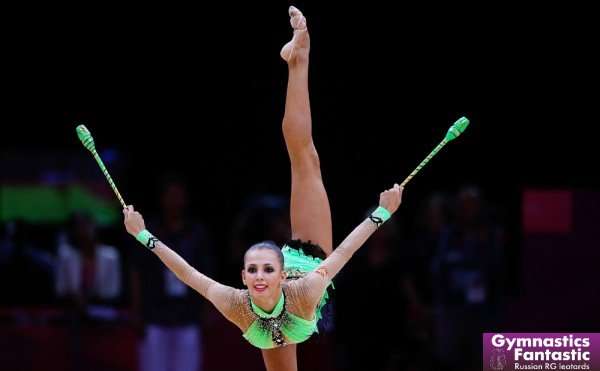 - Eugenia Kanaeva, has practically claimed about her retirement, Daria Kondakova is still thinking, but such variant is not excluded also. Are you ready to take the leading role of Rhythmic Gymnastics Team?
- I am always ready!
- Who do you think are your main competitors in a new season?
- Let the competitions begin, and we'll see.
- There are new amendments in rules for a new season. Are the programs that you perform now already amended? Or it's an Olympic variant?
- No, we've changed everything. We added dance movements, turns, work with the apparatus's become more complicated. It's hard to explain. The judges should see it, and the audience should just enjoy the performance.
- You play a role of a singer in one of your gala shows. Do you sing?
- Yes.
- What's your favorite?
- It depends. I can't tell about one song. I sing everything from rock till rap.
- What are your New Year plans?
- I will spent a new year night together with my family – mother, brother and other relatives.
Tweet
Like
+1
Share
Share
Pin it
Read more
01 Sep 2016 at 06:00
01 Sep 2016 at 06:00
01 Sep 2016 at 06:00
Like it? Tell your friends
Tweet
Like
+1
Share
Share
Pin it